A pair of earrings that go perfectly with your outfit is sure to turn heads around just for you. They can be your pride at a kitty party. To define elegance, you can flaunt your glamorous diamond earrings at your wedding, bridal, or baby shower. Or, you may just follow the motto, 'simplicity is the greatest virtue' for your everyday fashion.
It seems like an arduous task defining your fashion, right? Tons of questions in your head; what are the types of earrings for girls; how do I know this would fit me and my dress perfectly? Besides, if you are a man looking to gift cute earrings for your women in life- mom, sister, best friend, partner; you would be like, where do I start to find the perfect earrings for women?
Don't worry. We have got all the answers for you! In this blog, we will cover:
Earrings Designs and Styles.

General questions to ask when choosing diamond earrings.

Matching Earrings Designs with your outfit.

Selecting the perfect earrings for a variety of occasions.
Earrings Styles
---
Let us introduce you to all the earrings styles so you can find exactly what you are looking for.
Stud Earrings
---
As the name implies, stud earrings are small earrings shaped like studs. Due to their simplicity, you may find them one of the most popular earrings used today. Moreover, organizations that strictly follow formal codes prefer their female employees to wear stud earrings.
Fashion tip- Wear them with your favorite black dress and rock the look.

Lever back Earrings
---
You may more accurately refer to Lever back or Jacket earrings as accessories rather than actual earrings. These earrings include a jacket that adds volume and elegance to the earring. You may find them in a variety of forms, including flowers or leaves.


English Lock Earrings
---
English Lock or Plug Earrings require a hollow piercing in your earlobe with a metal. You may find different-sized earrings that can go as large as a golf ball.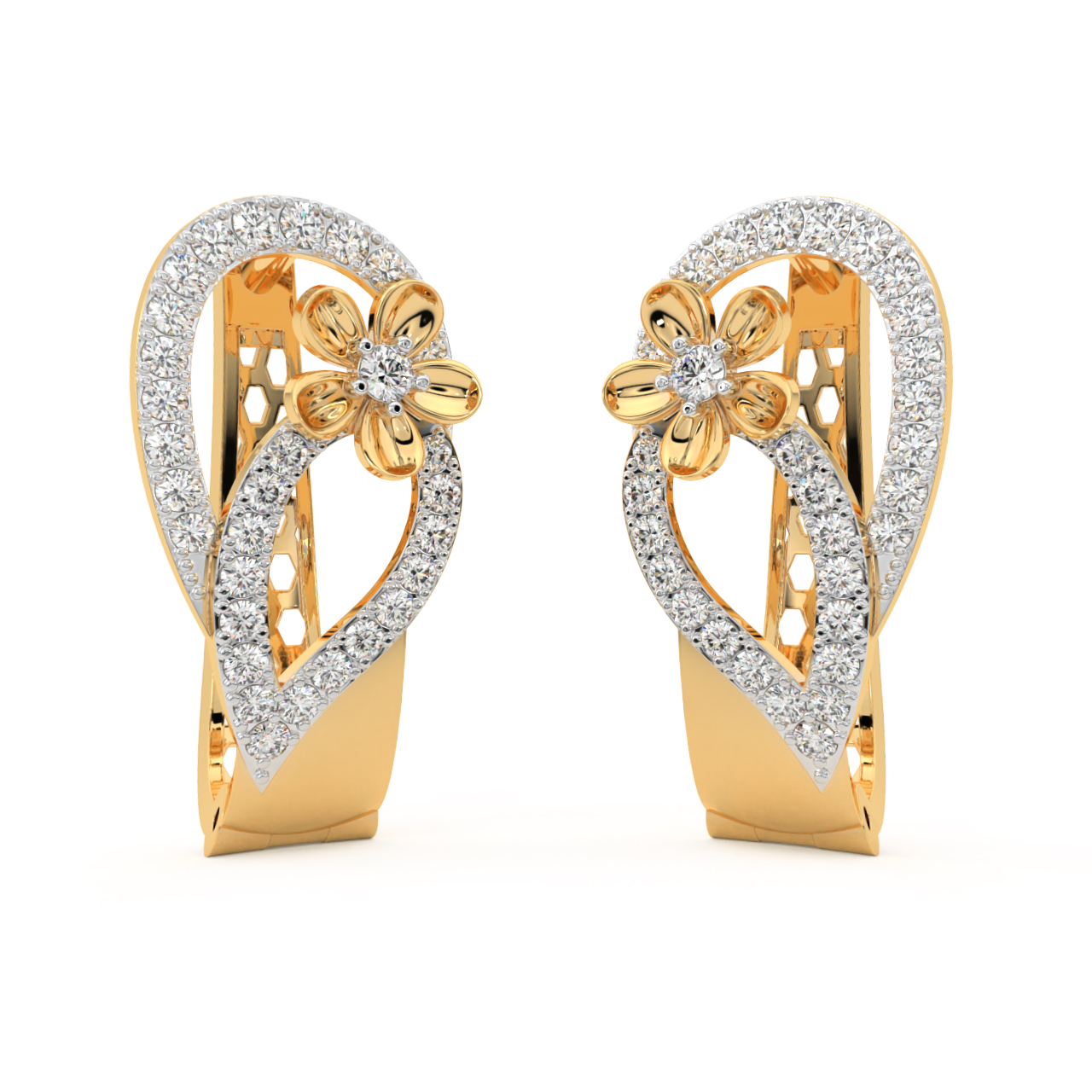 Wire Hook Earrings
---
You may find Wire Hook earrings popular if you belong to the goth subculture. They are pretty popular among the group. They protrude from the temples of the ears. You can find Ear Spike earring designs that have numerous spikes fanning out from a single stud.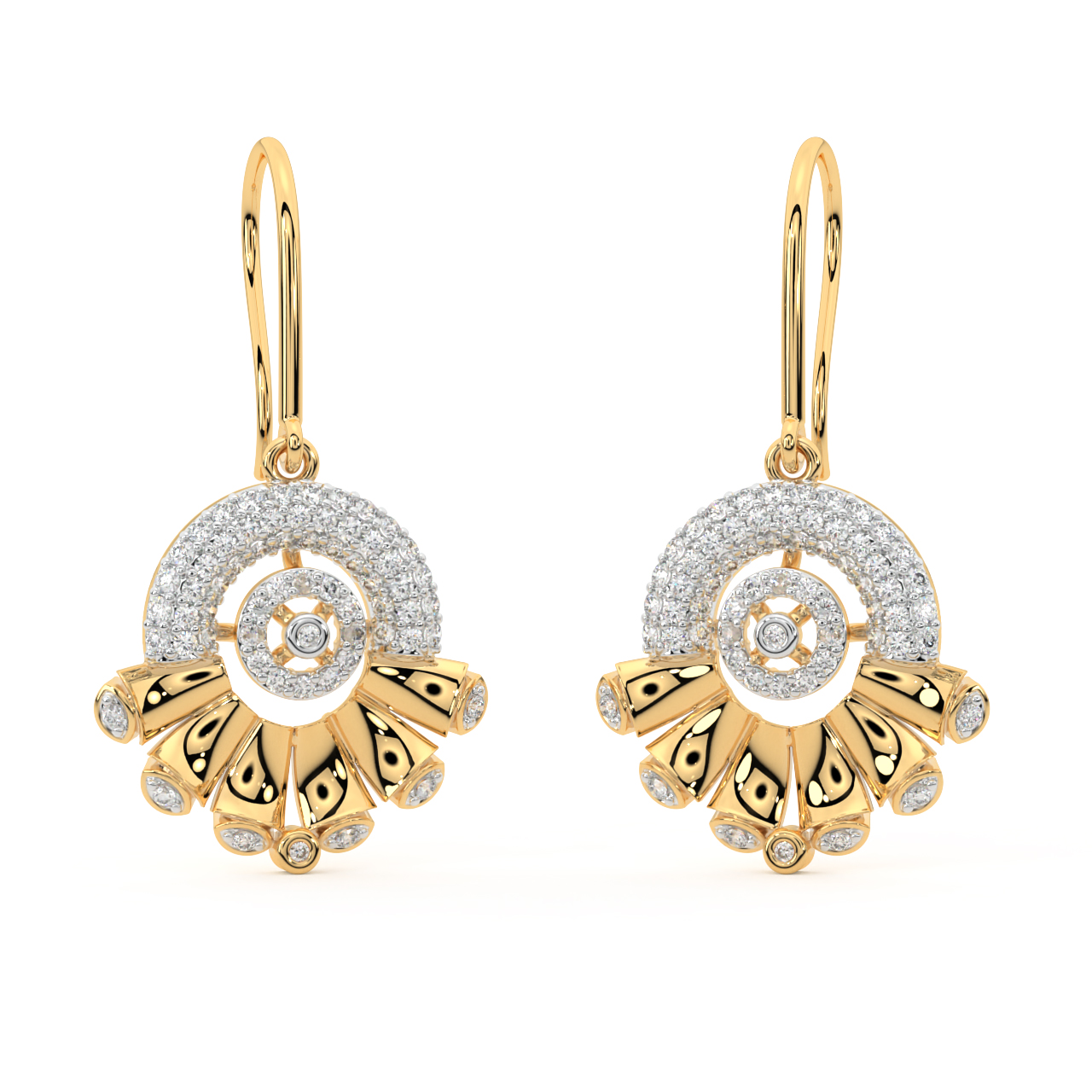 Huggie Earrings
---
The way that huggie earrings wrap around your ears gives them their name. Though you'll typically find them on the side or bottom of the earlobe, this can be done pretty much anywhere on the ear. To spice up things, you can even wear multiple huggies per ear, depending on the thickness.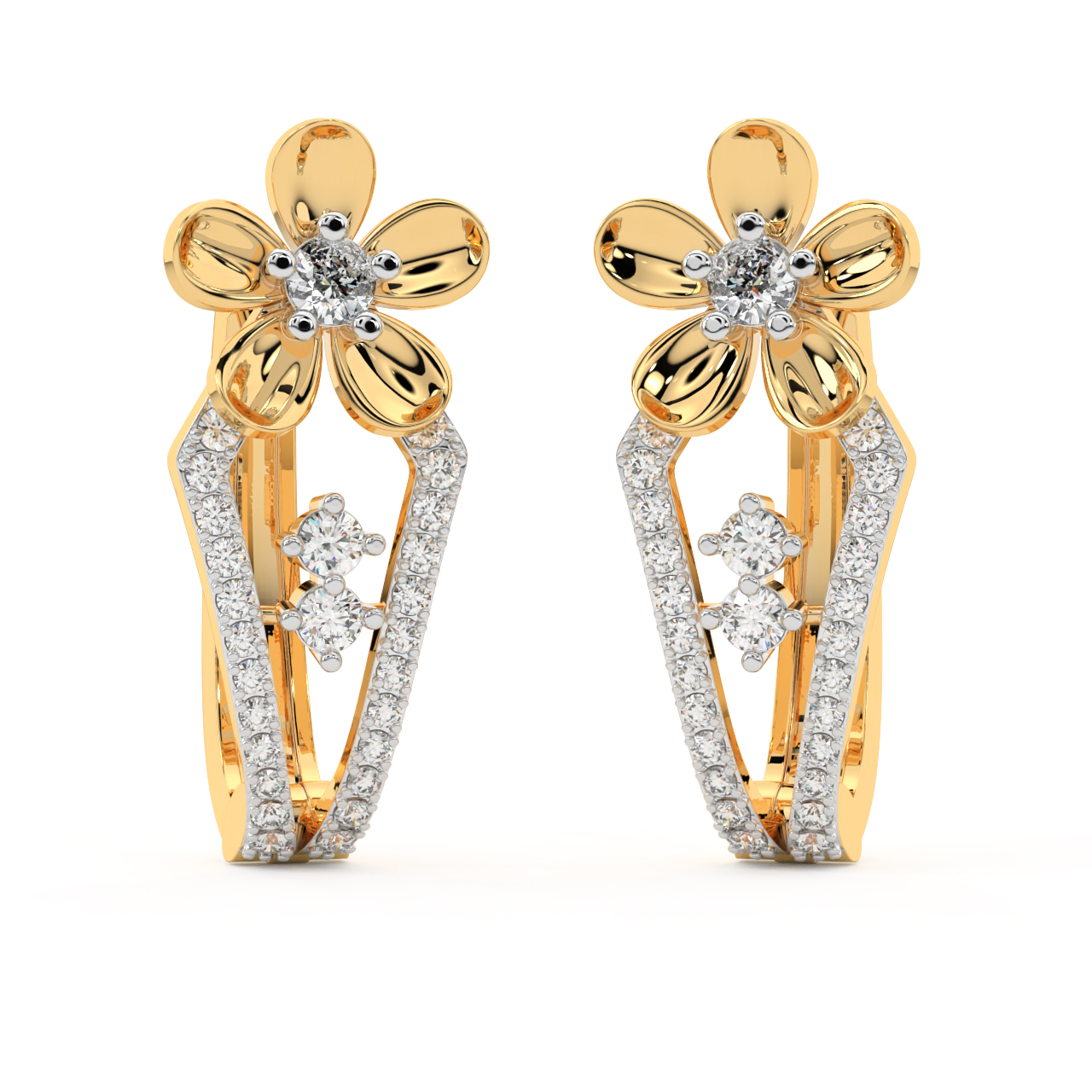 Drop and Dangle Earrings
---
Drop earrings are quite versatile. Depending on the appearance, you can choose a basic pair of pearls or more ornate metal carvings. Dangle earrings are similar to drop earrings. However, they differ in that they emphasize more on volume and looseness.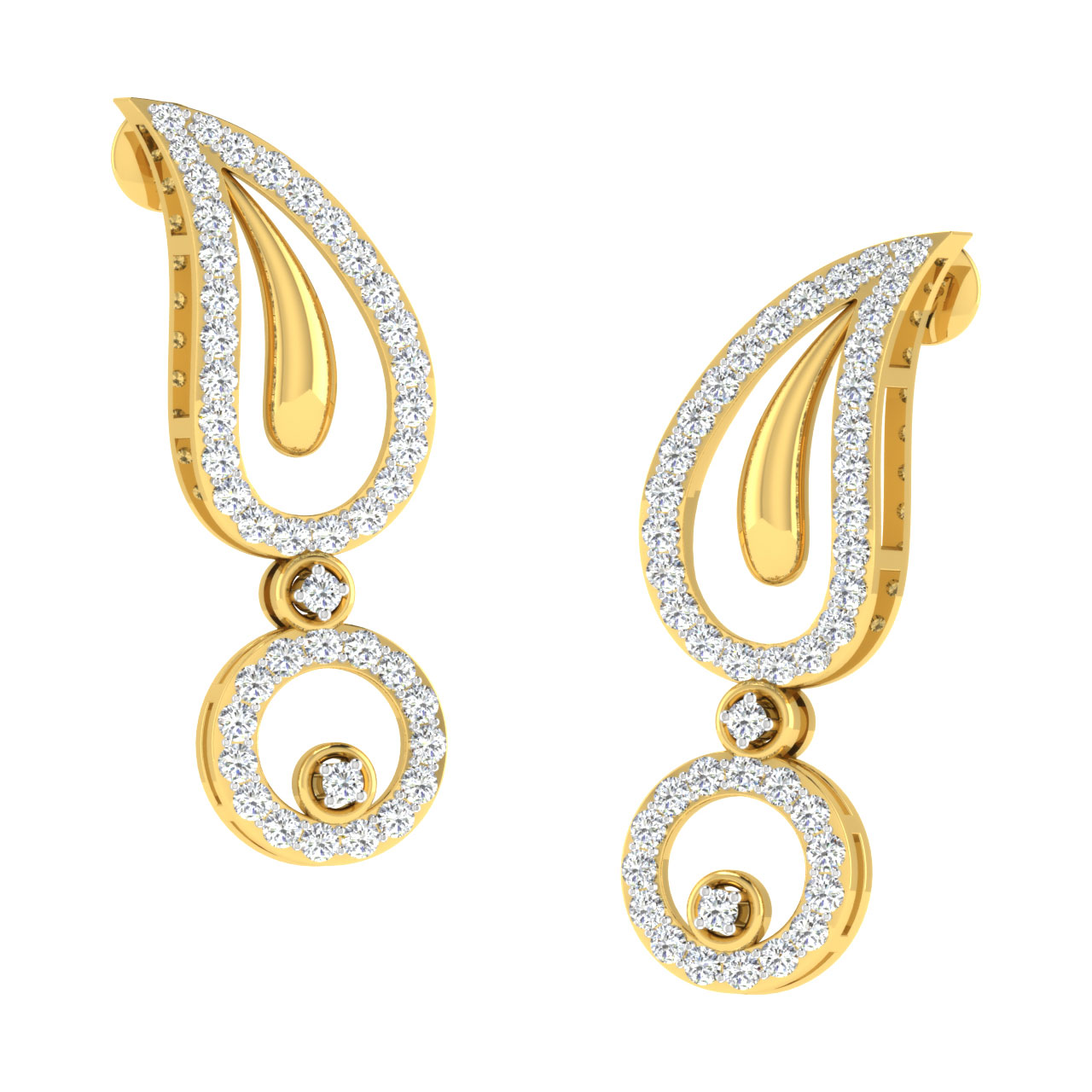 Teardrop
---
You will find that teardrop earrings have metal shapes studded with jewellery and gems. These earrings can elevate your aesthetics and can come in handy at parties.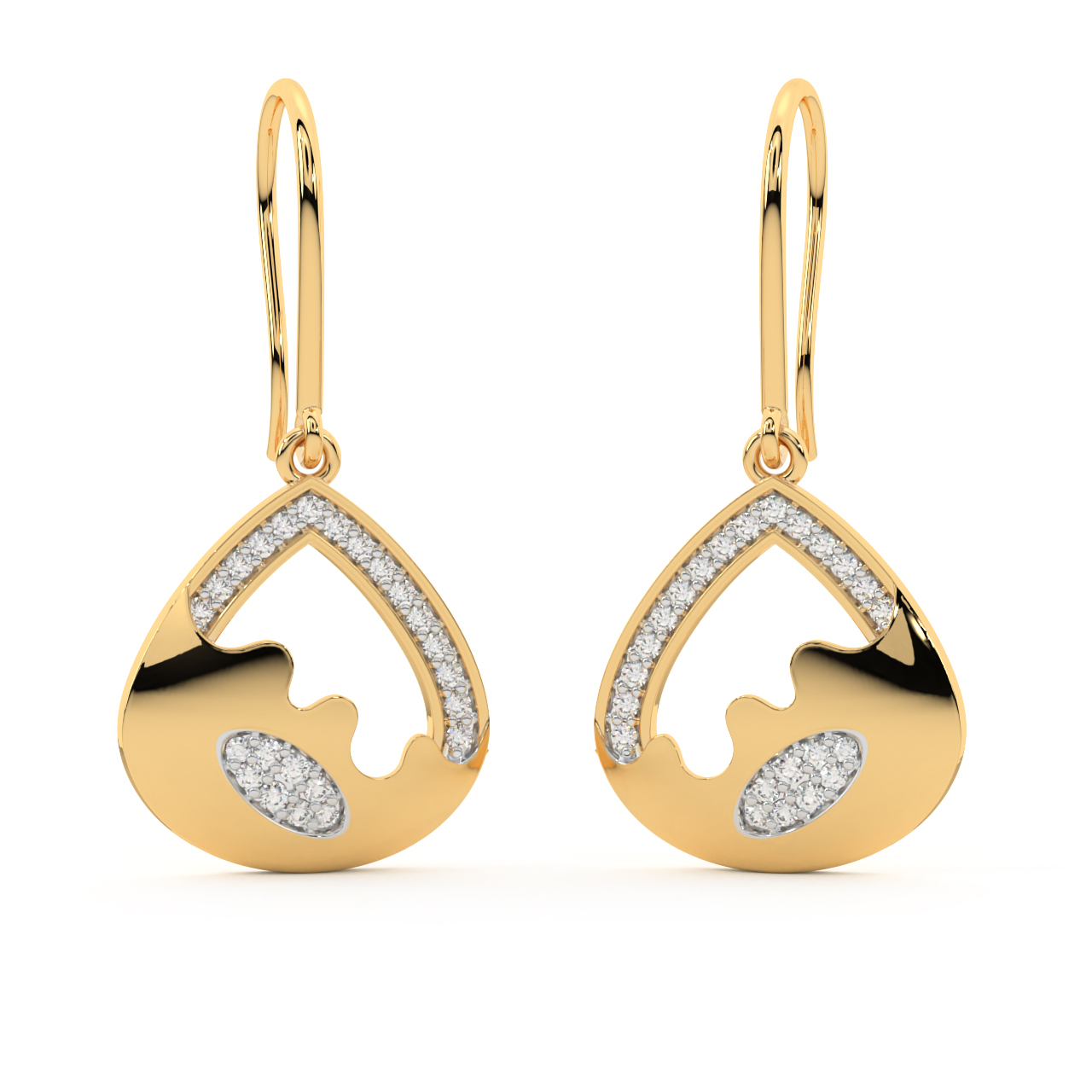 Chandelier
---
Popularly known as jhumkas in India, Chandelier earrings come in distinct shapes and sizes. You can wear these classic earrings with utmost grace at formal events or be in the limelight on fun nights.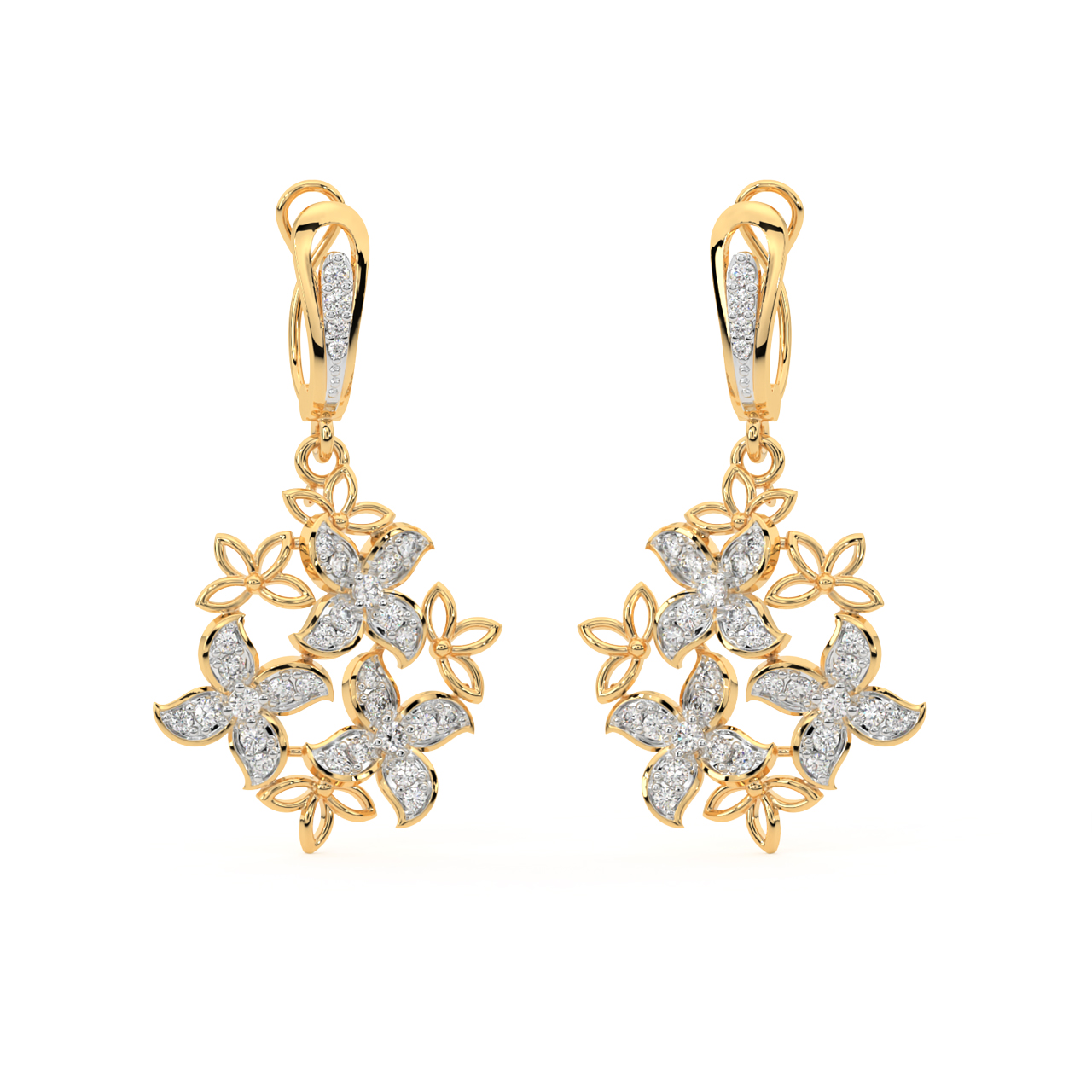 Hoop
---
Simple yet fashionable. You can wear Hoop earrings anywhere, anytime. And if you are looking for a bolder look in the same designs, you can find elaborate jewellery with patterns.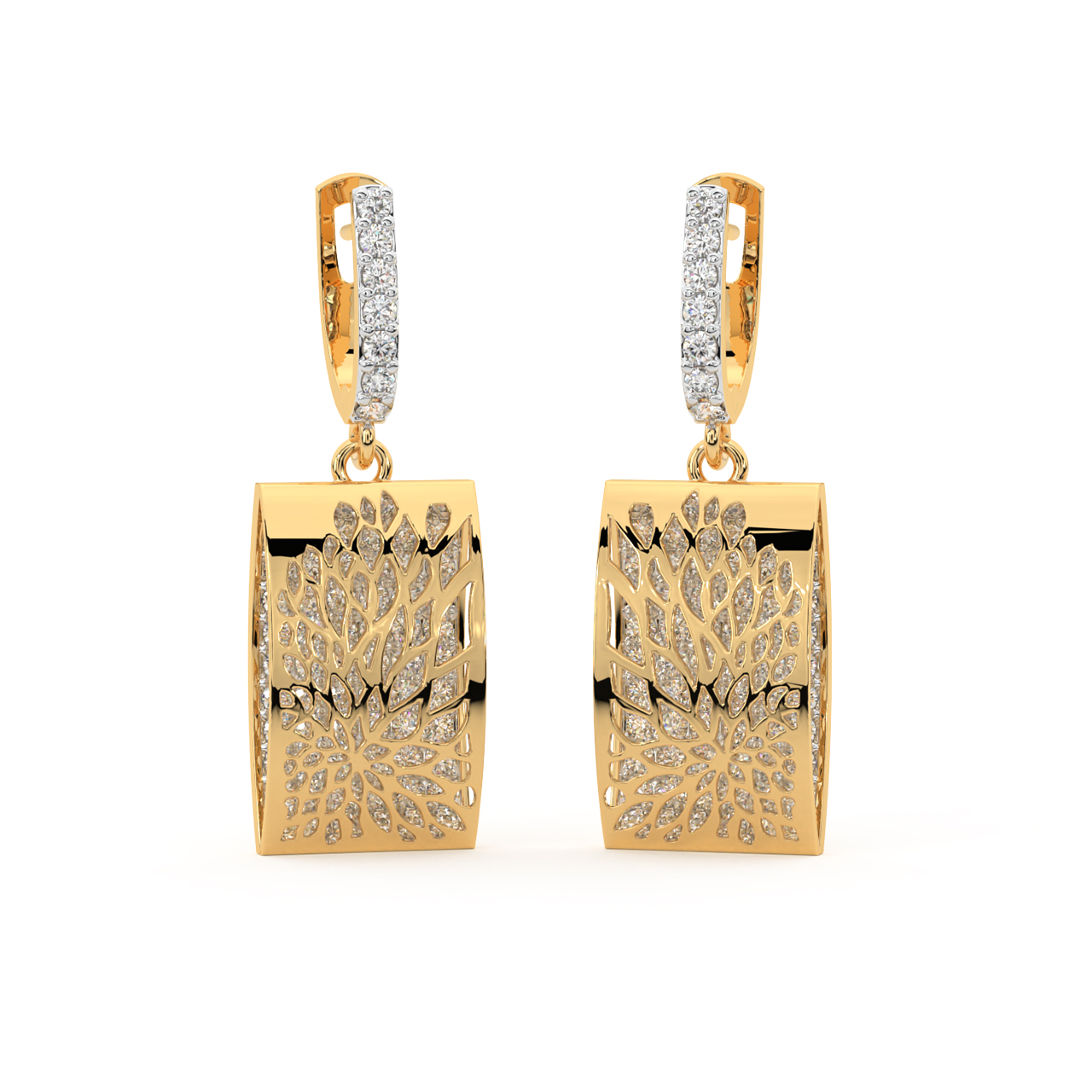 General questions to ask when choosing diamond earrings
---
If you are shopping at a physical store, you might just wear earrings and look if they suit you. However, a lot of times, the jeweller might not allow it for hygiene reasons. Plus, if you are shopping online for convenience and a wide range of diamond earrings, you might want to ask yourself a few questions that we have mentioned below:
What effect will these earrings have on my appearance?
Do they accentuate my best traits?
Do they draw attention to my eyes?
Do they suit my face shape?
What kind of impression do they make?
If you still aren't sure which earring looks the best on you, you can simply ask for an honest opinion from your friend.
Matching Earrings Designs with your outfit
---
Before you choose the appropriate earrings for your clothing, consider how ornate or neutral it is. For example, if you're wearing a plain white, beige, or pastel-coloured dress, earrings with touches of glittering gold or silver or an abstract design will bring your ensemble together, If your dress features vibrant flower designs or patterns, something elegant like classic-inspired moissanite earrings would look stunning.
Selecting the perfect earrings for a variety of occasions
---
The occasion's mood and setting are the factors that will determine what pair of earrings would make you look the best! Earrings are your gate pass to dress up your outfit on both formal and informal occasions. So, let's see which earring designs are best suited for certain events.
Wedding
---
If your wedding day is approaching, you may be contemplating, "What earrings should I wear on my big day, right?" For a classy but sophisticated aesthetic, try moissanite stud earrings, chain-link earrings, or pearl earrings. Souvenir or vintage-style designs, on the other hand, and hoop earrings exude a joyful, informal atmosphere.
Events and Parties
---
If you're going to a party, you'll probably be all glammed up in stunning attire. However, the correct earrings may take your outfit to the next level. When wearing a plain black or dark grey dress, match it with modest silver or gold earrings, When wearing a statement piece, colorful earrings with a distinctive design may unify your entire look. For cocktail parties or red carpet events, elegant stone dangle and drop earrings, as well as pendant earrings in vibrant colors, work well.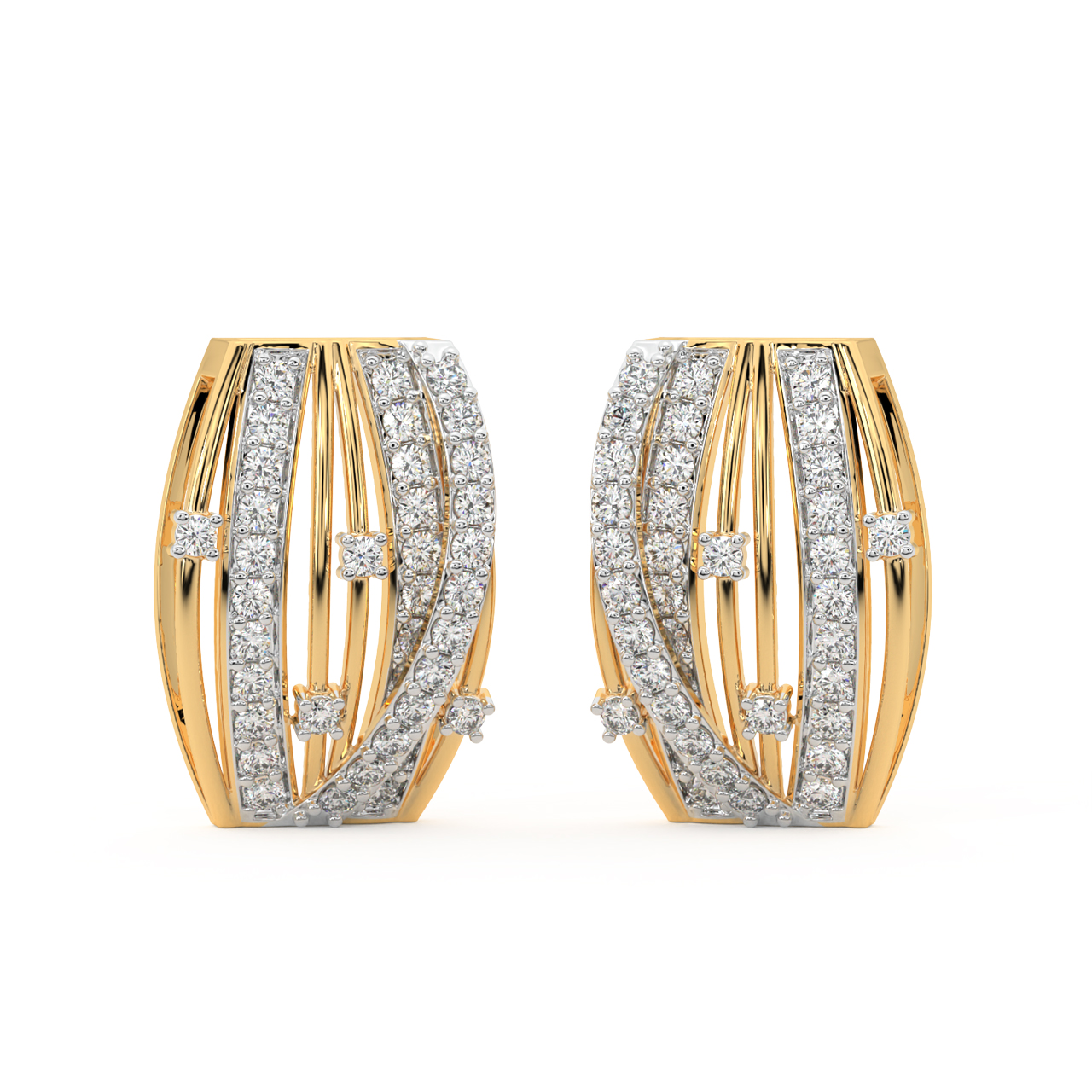 It might be challenging to choose the perfect earrings for special events. You may add a stunning set of earrings to your constantly expanding jewellery collection by taking into account a few factors, including your face shape, attire, and occasion. You may also like our stunning collection of earrings for the best of both worlds—casual and dressy!
---
---