There are a lot of blackmail attempts, pointless debates, and never-ending disputes. Isn't this the tale of every brother and sister? Our siblings are usually our main rival. But despite all the anger, there remains a unique link of love and admiration. However, even though we sometimes love to hate them, the beauty lies in the fact that underneath this irregular rivalry flows a pure bond of love, concern, and trust. The celebration of Raksha Bandhan honours the unique relationship between brothers and sisters. The occasion was traditionally celebrated amongst brothers and sisters, but the millennial generation has altered the custom for good. Today, regardless of gender, every sibling celebrates this occasion to value their close relationship. It's a day when siblings pray for one another's health and happiness and make wishes for their wellbeing. Celebrate your relationship this Rakhi by giving something special and priceless. Make your sister shine like a million stars with magnificent diamond jewellery that your sister will treasure for a lifetime.
---
Check out this exquisite jewellery from Sirius Jewels to make this Raksha Bandhan even more special for your sister.
---
Necklace
---
If your sister enjoys big, distinctive purchases and accessorising, give her a priceless necklace this Rakhi that is plated in gold or set with little diamonds. It is an exceptionally lovely and refined gift from her beloved sibling. Share with your sister how much you adore her and how she will always be your little princess. Check out our stylish selection of sparkling necklaces that are adorned with premium Diamonds set in yellow, rose, and white gold.
Diamond Earrings
---
Your sister will undoubtedly love a set of sparkling diamond earrings. There is a large selection of diamond and gold earrings available, including drops, ethnic wear, clusters, studs, and more. Give her something glittering and diamond-studded if she makes your life happier. If your sister is as lovely and delicate as a flower, a set of earrings with a flowery pattern would be the ideal present. Choose the best earrings for your sister by visiting the Sirius Jewels Online shop, where you can view the entire selection of diamond and gold earrings.
Pendants
---
Talking to your sister makes you forget all the craziness and gives you energy, whether it was a long day at the office or a gloomy daily issue. Give her jewellery that she will cherish forever since that is how she feels about you. The perfect present is a simple pendant that not only tells a narrative but also makes a statement on the owner. Pendants with intricate designs and tiny diamond accents, or pendants made of gold, would be excellent presents. There are a wide variety of options available at Sirius Jewels. Pendants come in every ideal shape and come in both formal and casual styles. They are stylish every day.
Rings
---
Share your affection and enduring friendship with others this Raksha Bandhan. Rings with diamond accents have a complex and distinctive design that links the Sisterhood promise, which is meant to endure forever. Despite their diminutive size, rings make for a thoughtful gift that is certain to make the recipient grin. See your sibling's face light up when you give them a beautiful diamond ring. The rings live up to their name and design by emphasising your Sister's natural beauty. At Sirius Jewels, women's rings come in elegant designs with highlighted dazzling and vibrant diamonds. The cornerstone of any relationship can be summed up in our exquisite designs.
Every day you may quarrel and hit each other, but when it comes to defending you from someone else, your sisters will always be by your side. Raksha Bandhan is an occasion to express gratitude and to celebrate a relationship with purity and joy. Enjoy the exquisite beauty of well-designed jewels by Sirius Jewels. With the best craftsmanship, our jewellery selection offers the ideal Raksha Bandhan present for your sister. Do you want our advice? Visit our online store. A variety of Diamond and Gold Jewelry is available. The ideal Rakhi gifts are creative necklaces, pendants, bracelets, and earrings. Along with the present, you can include a special letter for your lovely sister. Few relationships are everlasting and deserving of nothing but the finest. Visit Sirius Jewels, the leading diamond jewellery brand in India, to choose the ideal piece of jewellery to give your sister. Visit www.siriusjewels.com right away to purchase jewellery online.
---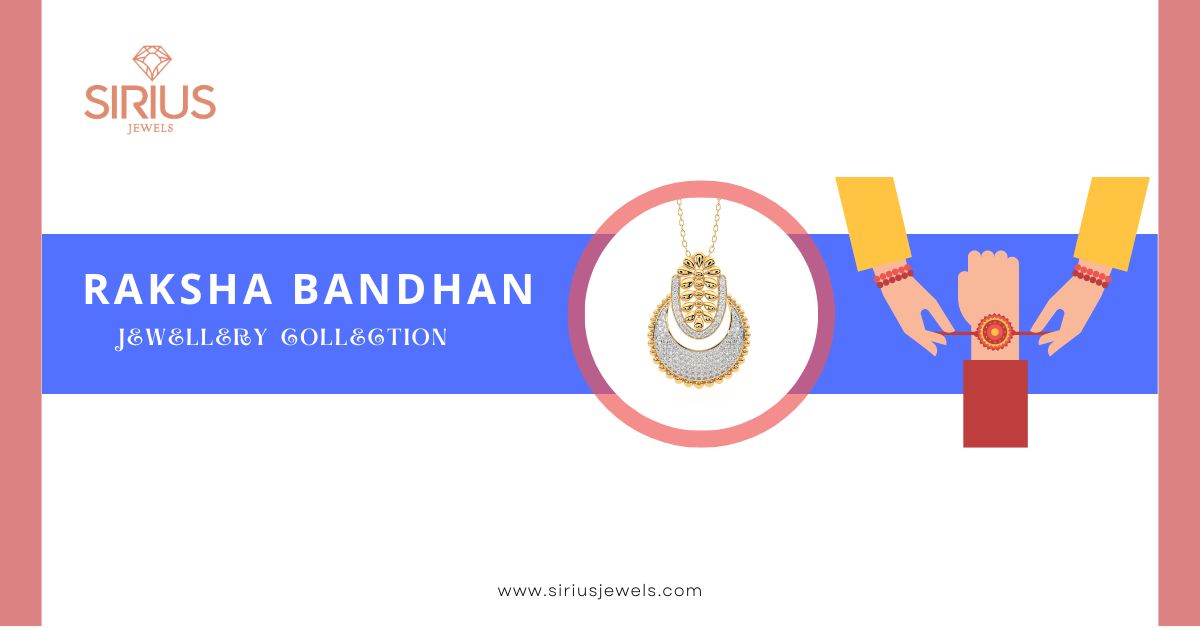 ---